Displaying 1 to 7 of 8 Articles
NORMA'S IAM PRAYER LETTER
April 1, 2013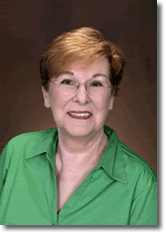 A Vision without a task is just a Dream, A Task without a Vision is Drudgery and a Vision with a Task is Liberty.
The focus for the September prayer letter is for the leading of the Holy Spirit as IAM takes steps towards His Secret Place.
Several scriptures have been rumbling about in my Spirit this month and it pertains to God speaking to us and His Name.
God tells us that he has revealed Himself by His Name.
Isa 52: 6 (New Living Translation)
"But I will reveal my name to my people and they will come to know its power. Then at last they will recognize that it is I who speaks to them."
Isa 45: 23 (New Living Translation)
I have sworn by my own name and I will never go back on my word.
The various names of God explain His Power, His Nature, and His relationship with man. The Old Testament believers held God's name in awe and respect.
Mal 2:5 (Amp)
My covenant with Levi was to give him life and peace because of the reverent and worshipful fear with which the priests would revere and stand in awe of my name.
In Ps 91, we are told that many of the promises in this Psalm are based on our knowledge of God's names.
PRAY
That since God has provided all that we need for life and godliness as a gift of grace through the Lord Jesus (2 Peter 1: 3) that we should worship His name and acknowledge Him and His provision through the Lord Jesus.
Isa 50: 4-5 (New Living Translation)
The Sovereign Lord has given me his words of wisdom, so that I know how to comfort the weary. Morning by Morning he awakens me and opens my understanding to His Will. The Sovereign Lord has spoken to me and I have listened. I have not rebelled or turned away.
I want us to look at a couple of God's names.
Hallowed be the name of Jehovah Tsidkenu – Jehovah our Righteousness.
Jer. 23: 6
When he is king the people of Judah will be SAFE and the people of Israel will live in PEACE. He will be called The Lord our Salvation.
PRAY

Thank you Father that in Christ you have made us righteous, your name gives us peace and safety in Christ.
1 Cor. 1: 30
But God has brought you into union with Christ Jesus and God has made Christ to be our WISDOM. By Him we are put right with God, we become God's holy people and are set free.
Thank you that in Christ we have been made righteous and Christ's very wisdom is given to us to come with ears wide open to listen as day by day He opens our understanding to His will in the things of this ministry of IAM, and the way forward.
Hallowed be the name of Jehovah M'Kaddish – Jehovah who sanctifies
Exodus 31:13 (Good News)
Keep my Sabbath, my day of rest, because it is a sign between you and me for all time to come, to show that I the Lord, have made you my own people.
Thank you Father that we are perfected by Your will O God because you have sanctified us by your Spirit.
That as decisions are made concerning the way forward, we would remember your day of rest and the promise that we are your people and that you delight in showing us the way forward.
Hallowed be the name of Jehovah Shalom – Jehovah is my peace


Judges 6: 24 (Good News)
Gideon built an alter to the Lord there and named it, "The Lord is Peace".
Col 3:15 (Good News)
The peace that God gives is to guide you in the decisions you make; for it is to this PEACE that God has called you together in the one body. And be thankful.
Lord we thank you that PEACE is who you are and you impart yourself always at the point of need. Peace, Wisdom and Understanding, the path to take as we remember that we have not been this way before.
Hallowed be the name of Jehovah Shammah – Jehovah is present
Ps 46: 1
God is our Shelter and Strength always ready to help in time of trouble.
Thank you Father that you are present by your Spirit. You are with us always and your Spirit gives us rest in the decisions that we make day by day.
Hallowed be the name of Jehovah Jireh – God's provision will be SEEN


Gen 22:14 (Good News)
Abraham's journey to Mount Moriah.
Abraham named that place "The Lord Provides". And even today people say, "On the Lord's Mountain He provides."
That God would demonstrate the power of His name by providing all that is needed in every area of this ministry.
That the ministry would not only be blessed but would continue to be a blessing wherever it is represented.
That God supplies all the needs of IAM (not according to the giftings, abilities or efforts of its leaders) but according to His Riches in Glory by Christ Jesus (Phil 4-9)
God makes ALL grace abound unto us in this ministry and we ALWAYS have ALL sufficiency in ALL things that we may abound in EVERY good work. (2 Cor. 9:8)
Hallowed be the name of Jehovah Rohi – The Lord my Shepherd
Prov. 3: 5-6
You are our Shepherd in Jesus by your Spirit we trust in you with all our hearts. We lean not to our own understanding. In all our ways we acknowledge you and you direct our paths.
How much do you want your name exalted Lord above all things. All things done to bring Glory to your Mighty Name.
John 16: 13
You have given us your Spirit of Truth who leads us into all truth.
1Cor 2: 10
Who shows us the deep things of God
1Cor 2: 16
Who gives us the mind of Christ
Rom 8: 14
Because we are your Children you lead us by your Spirit who gives us the knowledge of your Will

We have so much to be give thanks for. Let us remember that thanksgiving releases Grace which in turn releases Peace.
We have taken just A PEEK AT God's names. We are told in the 10 commandments to not take the name of the Lord in vain. This following question was dropped into my spirit and so I put it out there… food for thought…
"I wonder if we take God's names in vain when we passively accept circumstances that defy the Name of the Lord"? Let me know what you think and what God shows you.
Further prayer requests from Derm…
Here are two areas needing prayer...
Coffee Online is about to launch it's new website. Pray for God's favor that the launch would go well, that this website would be shared among the masses and that we would penetrate the internet marketplace, gain great favor and experience an increase in sales and also repeat sales.
VisionQuest is an opportunity for individuals to see first-hand the work of missionaries as they visit their projects in Honduras. The goal is that the Lord touch those individual hearts to engage in the support of His Secret Place, a Mission to Missionaries by giving of their personal skill sets and financial support. Pray that the Lord would attract the right people to journey with us on our next VisionQuest tentatively set for February, 2012.
Blessings,
Norma Frizzell
NORMA'S IAM PRAYER LETTER


IAM's FIRST M2M EVENT... TREMENDOUS SUCCESS


TENACIOUS LITTLE FELLOW


THE JOURNEY TO HIS SECRET PLACE


NATIONAL AND INTERNATIONAL ENDORSEMENTS
---
THE JOURNEY TO HIS SECRET PLACE
March 31, 2013
Dermot Westcott shares the story behind this God-inspired vision and how M2M will be the first step to seeing it fulfilled.

Derm and Viola Westcott are on an incredible journey. Called to be missionaries, they have been serving the poor and impoverished children of Honduras since 2003. But deeply rooted within the heart they share is another calling from the Lord: to encourage missionaries who dedicate themselves to this sometimes difficult and challenging kind of work.

Their desire to encourage missionaries is connected to a vision that the Lord laid on Derm's heart back in 1976; a vision that they now call "His Secret Place".

His Secret Place is a vision for a modern facility to host missionaries, pastors, and Christian leaders who are called to care for others. It will be an extraordinary structure unlike anything currently standing on Newfoundland soil today. Derm believes the location the Lord is setting apart for this sanctuary lies within Codroy Valley; a vast and scenic area of the western coast.

So what has it been like to be carrying such an awesome vision for all these years? As Derm explained in an interview, pursuit of this dream was not always full of passion and excitement.

"In the beginning, I didn't understand that this was a vision, so I held it close to my chest for many years. And in the few times that I did share it, I didn't get any encouragement regarding seeking it out, so that kind of made me a bit shy about sharing it with anybody."

Derm initially began thinking about His Secret Place when he was just 19 years old. In the following years, he met and married Viola (Bonnell). As time moved forward, he began to share this vision with Viola more and more; and the Lord began to give them signs that this was indeed a vision from Him. As Derm reflected back to those years, he recalled periods of loneliness and confusion. He put his feelings of carrying a vision in this perspective:

"Oftentimes you feel lonely and very doubtful whether you're on the right track or if it's all in your head, because it is in your head – nobody else has it. I was very careful to realize myself that this was not something that I had drummed up; this was something that the Lord had given to me. It was very important that I get direction from Him in this whole process."

In the summer of 1999, Derm went on his first short-term missions trip to Honduras. Near the end of the trip, Derm, pursuing God's leading to ask about orphanages in the area, found himself in the countryside, looking out over coffee fields. In the fields were thousands upon thousands of coffee bean plants. He had always consumed coffee, but had never seen where it came from. As Derm gazed upon these fields, the Lord dropped another idea into his spirit, "Coffee with a Mission." Perhaps coffee could be sold to support missionaries and their projects.

The following year Derm, Viola, and their son Joshua went to Honduras to research the potential of this new venture. They would stay there for six months, collecting information on the various details that would be required. In the meantime, Derm made his living in Newfoundland as a webmaster and had already registered the domain name; www.coffeeonline.org.

By 2001, a friend of Derm's, Faye Rowe, agreed to put the vision of His Secret Place into words. In the same year, Derm became co-founder of the International Alliance for Missions, Inc. This organization would oversee the operations of the coffee venture, while working towards the greater vision of His Secret Place. By August of 2002,

Coffee Online became a fully functioning e-commerce website used to sell Fair Trade and Honduran FairWay coffee in support of mission projects.

Derm and Viola eventually moved to Honduras; emerging themselves into full-time mission ministry. They continued to wait on the Lord regarding His Secret Place, and were discovering more about this vision.

In 2006, a woman from Newfoundland named Deb Bonnell had a dream about Derm and his vision, without ever hearing about it. She connected with a friend of Derm and Viola's, Alma Greeley, who shared it as follows:

"Deb said in the dream she was at a construction site with you. She said that it reminded her of a fortress or a castle. There were a lot of people working, and story upon story there were lots of windows where you could see more people working on the inside. You both were walking around this site, and she was thinking that you were like Noah; just as Noah had to be obedient and follow the Lord's instruction even though there was no evidence of rain, you were doing the same thing at that place!"

Today, Derm and Viola are about to enter a new stage of what has already been an amazing journey. September 2009 will mark the first step towards seeing the vision of His Secret Place fulfilled. It is then that Derm, Viola, and IAM will launch Mission to Missionaries (M2M). This is an international retreat that will focus on encouraging and empowering global missionaries. This retreat will actually demonstrate what the Lord would like to accomplish in creating His Secret Place.

As Derm described, the Mission to Missionaries retreat is expected to have positive results.

"We expect to create an awareness (of the vision) in the Body of Christ in Canada and the United States. Churches will become aware of the need for missionaries to be supported in areas such as ongoing pastoral care. Most importantly, we will be reaching out to missionary couples and singles who attend this event. They will go away rested, encouraged, renewed, refocused, and pumped, ready to go back into their fields of service continuing in the call that the Lord has for them."

Now that the vision is emerging into its first phase, Derm is expressing his confidence and faith in how the Lord will pave the road ahead.

"There's a level of excitement to this. I have a new level of confidence that the Lord is laying the ground work for this step by step. The fact that other people are onboard and are putting their talent, skill, and prayer into this is also very encouraging. Faith is definitely something that we need to exercise daily. Your agreement in faith in every aspect and step of the way is obviously very important. I believe that the timing is good and that the timing is now, and we're seeing things finally coming to pass. M2M is actually the first step towards building a permanent facility, which is the vision itself."
MISSIONARY ATTRITION: POOR RELATIONSHIPS WITH OTHER MISSIONARIES
March 1, 2013
Poor relationships with other missionaries…
Another cause for missionaries to leave the mission field is poor relations with other missionaries.
What is it with us that we feel so threatened when we feel that someone else may do better then us, or may take something away from us! We sometimes go out of our way to build walls between us and others that are in ministry, making sure they don't cross the line! A prayer that Jesus prayed to the Father that does not get as much coverage as the Lords Prayer can be found in John 17:21-23. I like how it's put in the Message Bible.
I'm praying not only for them but also for those who will believe in me because of them and their witness about me. The goal is for all of them to become one heart and mind— Just as you, Father, are in me and I in you, so they might be one heart and mind with us. Then the world might believe that you, in fact, sent me. The same glory you gave me, I gave them, so they'll be as unified and together as we are— I in them and you in me. Then they'll be mature in this oneness, and give the godless world evidence that you've sent me and loved them In the same way you've loved me.
There are many other scriptures that encourage us to keep the peace amongst the brethren and think of others more highly than ourselves. I guess we still have some of the mindset we had before we became Christians, and that is that we want to build our own little kingdoms. Still, it is hard to keep a balance in our relationships when we have bad experiences where others deliberately undermine us, or deliberately try and persuade people to work with one mission and leave the other. It must be a stench in the Lord's nostrils when He has to put up with our childish ways.
Relationships between missionaries in the field are not much different than the denominational churches we have in Canada/USA. We sense that we must protect the work we feel so led to do on behalf of the Kingdom of God. We are afraid that THEY may get one up on us. Man, are we ever going to learn? If the Lord is waiting for the church to become one before He comes back… well, no concern about that happening anytime soon!
I know that these are harsh words and somewhat awakening but they need to be said. I like how Paul put it in Ephesians 4: 1-6 (The Message Bible):
In light of all this, here's what I want you to do. While I'm locked up here, a prisoner for the Master, I want you to get out there and walk—better yet, run!—on the road God called you to travel. I don't want any of you sitting around on your hands. I don't want anyone strolling off, down some path that goes nowhere. And mark that you do this with humility and discipline—not in fits and starts, but steadily, pouring yourselves out for each other in acts of love, alert at noticing differences and quick at mending fences. (Look up the last part of His prayer in verses 24-25)
You were all called to travel on the same road and in the same direction, so stay together, both outwardly and inwardly. You have one Master, one faith, one baptism, one God and Father of all, who rules over all, works through all, and is present in all. Everything you are and think and do is permeated with Oneness.
We should be encouraging one another in our calls from the Lord. Being a part of someone else's vision will only enhance ours. If you were to boil it down, we are all a part of someone else's vision. Ultimately, we are part of the Lord's vision. We are all members of the Body of Christ. I should be encouraging you to do your part effectively because that will only lead to my success in whatever I am doing. It does not matter if I do not see it immediately but the finger and toe have a lot in common. When one hurts the other is affected, but more importantly, when one succeeds the other undoubtedly will reap the benefits.
I have seen missionaries compete in power struggles in the field. Neither one giving way to the other, nor humbling themselves to allow the other one to blossom. Sometimes it's a matter of a disjointed "power of command" not being respected. In those cases, the leader should know better than wrestle the matter to the point of division. This would be a great time for one to humble oneself, make peace and put the other above oneself. Complex… yes, not everything can be so simply remedied just by gracefully bowing out but the alternative is less pleasing to the Lord, believe me. If it were not for the Lord's Mercy towards us sad bunch, we'd be goners! Here is a thought… What's pride got to do with it?! Selah!
TENACIOUS LITTLE FELLOW
March 1, 2013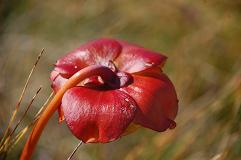 At our first M2M Event 2009, the Lord gave us a theme that ran throughout the event. It was "a tenacious little fellow called the Pitcher Plant".
Tenacious def.:holding fast; characterized by keeping a firm hold, a tenacious grip on my arm; pertinacious, persistent, stubborn, or obstinate. holding together; cohesive; not easily pulled asunder; tough.
The missionary has a lot in common with the pitcher plant. They too, like the pitcher plant, represent a flexibility and tenacity that is necessary to persevere in their call to the mission field.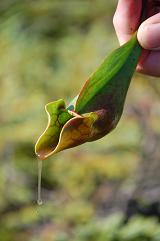 The pitcher plant (sarracenia purpurea) is a unique and hardy plant found on bogs and marshes throughout Newfoundland and Labrador. This little plant, with wine and green-coloured flowers, survives on insects collected in its tubular leaves. While other plants find nutrients to survive in the soil, such as nitrogen and phosphorus, the pitcher plant has adapted to an environment deficient in these vital nutrients by finding an alternate source. Its leaves and structure are expertly formed to survive, and regardless of its conditions, the pitcher plant remains intensely resilient, infinitely adaptable, and naturally and remarkably beautiful.


The significance of the pitcher plant strongly characterizes missionaries.


The pitcher plant is a symbol that not only represents Newfoundland and Labrador's natural beauty, humanity, and strength of our collective character but also represents the missionary who survives in the most difficult of circumstances. The pitcher plant has adapted to this place over generations, survived everything the world has thrown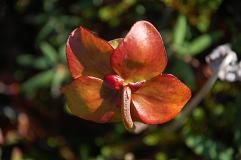 at it, and thrived. It's a symbol of the missionaries' creativity, of a way of looking at things differently, and believing that there really is no place on earth quite like the home the Lord has chosen for the missionary. Simple and amazing, possessing a fierce determination, and standing proud in both sun and storm, it is a symbol of who the missionary is, and what they're made of. Like the pitcher plant, the missionary is always growing, head to the wind.

The pitcher plant is a symbol that reflects who the missionary is and what they stand for. It is a symbol that speaks our language, and is as unique as the people who answer to their God-given call, in every corner of the world, including Newfoundland and Labrador.
---
In 1954, the Newfoundland Government designated this unusual and interesting plant as the official flower of the province.
DERM'S TESTIMONY GIVEN AT GIDEON'S 100TH ANNIVERSARY CELEBRATION
October 25, 2011
IAM'S FIRST M2M EVENT ... TREMENDOUS SUCCESS
September 25, 2009
IAM's first M2M Event was a tremendous success. That is the word from all that participated in the event…volunteer staff and missionary attendees. Even the service industry weighed in with their take on it, expressing that the event ran smoothly. "Is this your first time doing such an event?" questioned one of the hotel management staff. "You have certainly made this one a success."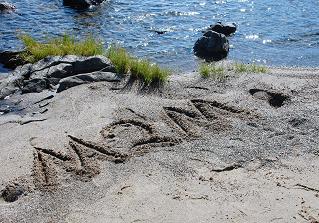 Fifteen missionary attendees and 12 volunteer staff participated in this year's event. The event ran from Sept 1-6. Right from the get-go, the attendees were greeted warmly, ushered to the registration table and then on to their hotel room. The excitement in the hotel amongst staff and attendees grew at a steady pace as each day's activities played out. Attendees chose from the various activities available to them such as massage therapy, kayaking, boat tour, hiking, golfing and swimming. Their meals were served in fine dining style. Nothing was too good for our M2Mers.
There were lots of photos taken throughout the event. Check M2M's photo album to get a sense of the vast beauty of Rocky Harbour. Can you find the whale?
Volunteer staff made themselves available to the attendees' throughout the event, especially for times of sharing and prayer. These times were a blessing to both the attendees and our staff.
One of the main highlights for me personally was a gift the Lord gave to the missionaries. An analogy of the rugged life of a plant that survives in the wild of Newfoundland - the Pitcher Plant, and the missionary. The missionary has a lot in common with the pitcher plant. They too, like the pitcher plant, represent a flexibility and distinctiveness that is necessary to persevere in their call in the mission field. To read more on this gift from the Lord, called "a Tenacious Little Fellow", click here.
Another highlight of the event was our last night in Rocky Harbour. After everyone enjoyed a lovely dinner together, our staff put off a Newfoundland production, "The Newfie Kitchen Party". They went all out to entertain our guests, giving them a hilarious piece of Newfoundland culture. They even persuaded our mainland volunteer staff to dress up as mummers!
Finally, as things came to a close, as we prepared to part ways, there was a tangible anticipation for M2M and its future. We all felt that this must carry on. Others need to experience this time of refreshing. As some attendees' expressed, "I feel like it's a big hug from the Lord"; "I am made to feel like a queen"; "This has helped me focus on my mission and helped restore my relationship with my wife."
The Lord willing, there will be a M2M 2010, and perhaps the Lord has a part for you to play. If so, email us at admin @hissecretplace.ca .